Books
A great use of Clean Community funds is buying books for libraries and schools. If you find one with a message you like, you can even buy one book for each teacher in the targeted grade. Use the books for readings and discussions in the classroom.

Here is a list of recommended books for children of various ages including a section for older kids and/or adults. The listing starts with the youngest age level first. Some books, by the same author and/or part of a series, are grouped together.

Provided below for each book, along with an image of the cover, is the title, author, a brief description, publication date, publisher name, number of pages, ISBN and suggested age/grade level. Books out of print are also noted and may be found in your library or on websites that sell used books. Links are provided for some books where websites provide additional information, or a video may accompany a book.
Celebrity Reader

A great way to connect children to the environment is to invite a "celebrity reader" to read a book about litter abatement. The celebrity can be an elected official from your town/county, a sports figure, or even a CEO from your community.

The Clean Communities coordinator will make arrangements with a class of children at a local school or a library. The book is purchased utilizing Clean Communities funds and is given to the celebrity reader ahead of time. It should be a book from this Clean Communities book list. The children will love to hear the story and feel very special that such an important person took time out of his or her day to read to them. By sharing a personal experience the children will feel a direct link with the celebrity reader. The celebrity reader will ask the children to make a commitment not to litter. The reader can end the visit by making one or two recommendations to the class, such as:

Positive results come from not littering
Everyone is responsible for our planet Earth

The celebrity reader will then donate the book to the class or library. This is a positive way to promote community stewardship and change the attitudes of those who litter. This is a great activity for Earth Day. A number of celebrity readers can be lined up ahead of time and all of your first or second-grade classes can be read to.
Let's Help the Earth - 123 Sesame Street Book by Jodie Shephard Out of Print
Readers are shown the wonders of the natural world through Elmo's wide-eyed look at plants, animals and the environment. He then takes kids through the various things each of us can do to protect our planet; to keep it clean for today and always.
Each spread covers a different concept:
• being kind to animals (protecting animals and wildlife)
• proper disposal of garbage
• keeping the community clean
• ways to reuse things (recycling) and conserving water and energy
• planting a tree (replenishing) – goodreads.com
Published October 2008 by Readers Digest -12 pages (board book) ISBN 0794416969
Reading Age: 2 – 5 years - Grade Level: Preschool to Kindergarten
---
Grover's 10 Terrific Ways to help our Wonderful World, Sesame Street Book by Anna Ross Out of Print
"Grover describes ten ways to help the world, from planting trees to recycling trash." – amazon.com
Published on March 15, 2013 by Sesame Street (first published in 1992)
24 pages (editions may vary) ISBN 1403750122
Reading Age: 5 – 6 years
---
The Berenstain Bears Don't Pollute (Anymore) by Stan and Jan Berenstain
"This classic Berenstain Bears story is a perfect way to teach children about caring for the planet! Come for a visit in Bear Country with this classic First Time Book® from Stan and Jan Berenstain. Brother is doing a report about endangered species, so he and Sister visit the museum to talk to Professor Actual Factual about what they can do to help save the environment. Includes over 50 bonus stickers!" – penguinrandomhouse.com
Published September 3, 1991 by Random House Books for Young Readers
32 pages ISBN 0679823514
Reading Age: 3 – 7 Grade Level: Preschool – 2


---
We Are Water Protectors by Carole Lindstrom
"Inspired by the many Indigenous-led movements across North America, We Are Water Protectors issues an urgent rallying cry to safeguard the Earth's water from harm and corruption--a bold and lyrical picture book written by Carole Lindstrom and vibrantly illustrated by Michaela Goade." – us.macmillian.com
Published March 17, 2020 by Roaring Book Press
40 pages ISBN 1250203554 Reading Age: 3 - 6 Grade Level: Preschool - 1
---
Too Much Garbage by Fulvio Testa
"Two boys, sent to take out the garbage, encounter piles of trash by the curb. As they explore the city, they discover garbage everywhere-mountains and mountains of garbage until the world seems like a sea of trash. Fulvio Testa's simple text and stunning illustrations offer children a dramatic glimpse of an environmental crisis that threatens our planet-and a small sign of hope to young environmentalists." – goodreads.com
Published April 1, 2001 by North South Books
32 pages ISBN 0735814511
Reading Age: 3 – 8 Grade Level: 1 – 2
---
I Can Save the Ocean! The Little Green Monster Cleans Up the Beach by Alison Inches
"Max the Little Green Monster is a cute, furry green monster that loves the outdoors, especially the beach! But Max and his friends don't like cleaning up after themselves and after a picnic on the shore, they leave a big mess behind and go scuba diving. While Max is excited to meet lots of new ocean-swimming friends from crabs to colorful fishes to ink-squirting squids, when he learns how his carelessness and littering may have harmed the beautiful ocean, the Little Green Monster goes on a quest to clean and protect the beach and finds out what it means to be environmentally green." – goodreads.com
Published March 9, 2010 by Little Simon
24 pages ISBN 1416995145 Reading Age: 4 – 6 Grade Level: Preschool – 1
The Adventures of a Plastic Bottle, A Story About Recycling by Alison Inches
"Learn about recycling from a new perspective! Peek into this diary of a plastic bottle as it goes on a journey from the refinery plant, to the manufacturing line, to the store shelf, to a garbage can, and finally to a recycling plant where it emerges into it's new life...as a fleece jacket!
Told from the point of view of a free-spirited plastic bottle, kids can share in the daily experiences and inner thoughts of the bottle through his personal journal. The diary entries will be fun and humorous yet point out the ecological significance behind each product and the resources used to make it. Readers will never look at a plastic bottle the same way again!" – simonandschuster.com
Published January 6, 2009 by Little Simon
24 pages ISBN 1416967885 Reading Age: 4 – 6 Grade Level: Preschool – 1
The Adventures of an Aluminum Can by Alison Inches
"Peek into this diary of an aluminum can as it goes on a journey from inside a bauxite rock, to the manufacturing line, to the store shelf, to a display on a bookshelf, to a garbage can, and finally to a recycling plant where it emerges into its new life…as a baseball bat!
This 8x8 paperback storybook is told from the point of view of an enthusiastic aluminum can. The diary entries are fun and humorous, yet point out the ecological significance behind each product and the resources used to make it." – simonandschuster.com
Published May 5, 2009 by Little Simon
24 pages ISBN 1416972218 Reading Age: 4 – 6 Grade Level: Preschool - 1
---
Cleaning Up Litter (Help the Environment) by Charlotte Guillian
This is one book in a series of 6 called Acorn: Help the Environment by Charlotte Guillian. The "series introduces very young children to the concept of caring for the environment in an attractive and accessible way. Based on children's real-life experiences, the books focus on things children can do to help the environment and keep the world around us clean. In this book, children learn what litter is, how it can harm the environment, and what they can do to help clean up litter." – goodreads.com
Published February 28th 2008 by Heinmann-Raintree Library
24 pages ISBN 1432908855
Reading Age: 4 – 6 Grade Level: Preschool – 1
---
The Great Kapok Tree, a Tale of the Amazon Rain Forest by Lynne Cherry
"A modern fable with an urgent message for young environmentalists.
Lynne Cherry journeyed deep into the rain forests of Brazil to write and illustrate this gorgeous picture book about a man who exhausts himself trying to chop down a giant kapok tree. While he sleeps, the forest's residents, including a child from the Yanomamo tribe, whisper in his ear about the importance of trees and how "all living things depend on one another" . . . and it works. Cherry's lovingly rendered colored pencil and watercolor drawings of all the "wondrous and rare animals" evoke the lush rain forests. Features stunning world maps bordered by detailed illustrations of fascinating rainforest creatures. An IRA Teacher's Choice (1991), ABA's Pick of the Lists, Reading Rainbow Review Book, NSTA-CBC Outstanding Trade Book for Children." – goodreads.com
First Published 1990 by Harcourt Brace Jovanovich
36 pages ISBN 0152018182 Reading Age: 4 – 7 Grade Level: Preschool – 3


---
Just a Dream by Chris Van Allsburg
"When it comes to the environment, young Walter is not an enlightened individual. He's a litterbug who believes sorting trash is a big waste of time. What's more, he thinks his friend's birthday present, a tree, is the most ridiculous gift he's ever seen. Walter believes the future is going to be wonderful, filled with robots and other amazing inventions. One night while lying in bed, Walter wishes he could visit the future. He falls asleep and his wish comes true. But the world Walter sees is not exactly what he'd imagined. When he returns to the present, he is changed and so are his dreams." – goodreads.com
Published 1990 by Houghton Mifflin Company
48 pages ISBN 0395533082 Reading Age: 4 – 7
---
Fancy Nancy: Every Day Is Earth Day by Jane O'Connor (Part of the Fancy Nancy World at Harper Collins Children's Books)
"Learning to respect the environment is no small task, especially if you want to celebrate Earth Day every day of the week! Luckily, Nancy is on hand to make sure Mom, Dad, and her little sister do their part in being green—even if she has to keep reminding them. Nancy knows that she's helping her family do something very important, but will she take her enthusiasm for the environment a step too far?" – fancynancyworld.com
Published February 9, 2010 by Harper Collins
32 pages ISBN 0061873276 Reading Age: 4 – 8 Grade Level: Preschool – 3


---
Recycle! A Handbook for Kids, by Gail Evans
"Where does all the garbage go after we throw it out? And how can it be used again? This lively and informative book explains the process of recycling from start to finish. Recycle! Focuses on five different types of rubbish: paper, glass, aluminium cans, plastic and polystyrene. This behind-the-scenes look at recycling offers fascinating facts and helpful tips for cleaning up our environment." – Little, Brown and Company
Published April 1996 by Little, Brown Books for Young Readers (first published 1992)
32 pages ISBN 0316309435 Reading Age: 4 – 8 Grade Level: Preschool – 3


---
The Garbage Monster by Joni Sensel Out of Print
"When Jo is slow to take out the trash one evening, the garbage comes to life and hauls her outside instead." – goodreads.com
Published April 1, 2001 by Dream Factory Books
24 pages ISBN 0970119526
Reading Age: 4 – 9 years Grade Level: Preschool – 3
---
The Great Compost Heap by Renaee Smith
"In The Great Compost Heap the student is introduced to the idea of composting and how composting helps to further the idea of the 3 R's, 'Reduce, Reuse, and Recycle'." – renaeesmith.com
Published May 4, 2014
34 pages ISBN 0985541512
---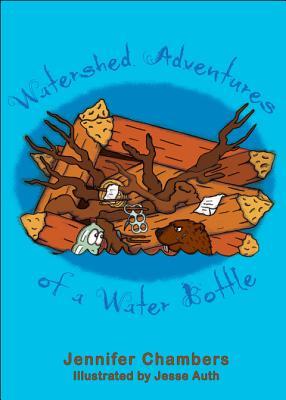 Watershed Adventures of a Water Bottle by Jennifer Chambers
"Watershed Adventures of a Water Bottle tells the story of a water bottle's journey in the Chesapeake Bay watershed and Atlantic Ocean. Upon reaching a storm drain, the personified water bottle travels the streams and rivers of Washington, D.C., meeting animals along its ride. Each animal from the water strider to the loggerhead turtle teaches the water bottle about itself, its origins, its journey, and those of other pollutants in the watershed. Alima is the five-year old water bottle's heroine; making us all believe we can be one too. 100% of the author's proceeds from the book are being donated equally to the Chesapeake Bay Trust and the Surfrider Foundation's Rise Above Plastics program." – goodreads.com
Published July 9, 2013 by Tate Publishing & Enterprises
44 pages ISBN 1625103913 Reading Age: 5 – 6




---
TuTu Goes Green by Tulani Thomas
"TuTu Goes Green is a book that teaches children how to live green through the wide eyes of an adorable little girl named TuTu. TuTu explores the world of green living from a child's perspective, learning the meaning and importance of traditional "green" concepts like reducing, reuse, and recycle while spreading the message that children can contribute to saving the environment. In this fun and engaging book, children will learn that small changes to their daily routines such as recycling old notebooks, turning out the lights, and using reusable shopping bags can play a huge role in helping the environment." – tutusgreenworld.com
Published October 1, 2011 by TuTu's Green World LLC
32 Pages ISBN 0984601201
Reading Age: 5 – 7 Grade Level: K – 2
---
How We Clean Up a Park by Robin Nelson From the Lerner Books Series First Step Nonfiction — Responsibility in Action
"How do you organize a big project? See how these kids plan to clean up a park." – goodreads.com
Published January 1, 2014 by Lerner Publishing Group
24 pages ISBN 1467736376
Reading Age: 5 – 8 Grade Level: Kindergarten – 2
---
The Wartville Wizard by Don Madden
"Wartville is being buried in trash! There are soda bottles under the flowers, juice cans by the mailbox, and newspapers along the road. Every day the piles grow higher and higher. Then one tidy old man realizes he has the power to get rid of all the trash forever. Wartville will finally be cleaned up once and for all!" – goodreads.com
Published March 31, 1993 by Aladdin (first published 1986)
32 pages ISBN 0689716672
Reading Age: 5 – 8 Grade Level: Kindergarten – 3
---
Dear Children of the Earth by Schim Schimmel Out of Print
"Dear Children of the Earth begins a remarkable letter from Mother Earth asking for help from children everywhere. She writes to express her love for each and every child and asks for their love and appreciation in return. In her own words, and with all of her heart, Mother Earth enfolds children with love and entrusts them with her protection." – goodreads.com
Published May 1, 1994 by Northwood Press
32 pages ISBN 1559712252
Reading Age: 5 – 8 Grade Level: K – 3
---
Dinosaurs to the Rescue by Laurie Krasny Brown and Marc Brown Out of Print
"The 3 Rs–reduce, reuse, and recycle–are taught, along with practical tips and special projects, by the dinosaurs who first appeared in Dinosaurs Alive and Well: A Guide to Good Health." – goodreads.com
Published April 1, 1992 by Little Brown and Company
32 pages ISBN 0316110876
Reading Age: 5 – 8 years Grade Level: 1 – 2
---
One Plastic Bag Isatou Ceesay and the Recycling Women of the Gambia, by Miranda Paul
"The inspiring true story of how one African woman began a movement to recycle the plastic bags that were polluting her community. Plastic bags are cheap and easy to use. But what happens when a bag breaks or is no longer needed? In Njau, Gambia, people simply dropped the bags and went on their way. One plastic bag became two. Then ten. Then a hundred. The bags accumulated in ugly heaps alongside roads. Water pooled in them, bringing mosquitoes and disease. Some bags were burned, leaving behind a terrible smell. Some were buried, but they strangled gardens. They killed livestock that tried to eat them. Something had to change. Isatou Ceesay was that change. She found a way to recycle the bags and transform her community. This inspirational true story shows how one person's actions really can make a difference in our world." – lernerbooks.com
Published February 1, 2015 by Lerner Publishing Group
32 pages ISBN 1467716081 Age Range: 5 – 8 years Interest Level K – Grade 3 Reading Level Grade 2
---
All the Way to the Ocean by Joel Harper
Here is a video with the same title, based on the book (14:20 minutes, April 13, 2017)
"An uplifting story about two best friends, Isaac and James, and their discovery of the cause and effect relationship between our cities' storm drains and the world's oceans, lakes and rivers. It is sure to inspire both young and adult readers alike and teach a timeless life lesson--If we all do our part, a cleaner, safer environment is indeed within our reach." – goodreads.com
Published February 1, 2006 by Freedom Three Publishing
32 pages ISBN 0971425418 Reading Age: 5 – 8 Grade Level: K – 3
---
The Cat in the Hat Comes Back by Dr. Seuss
"The riotously funny follow-up to The Cat in the Hat! The Cat is back—along with some surprise friends—in this beloved Beginner Book by Dr. Seuss. Dick and Sally have no time to play. It's winter and they have mountains of snow to shovel. So when the Cat comes to visit, he decides to go inside and to take a bath. No problem, right? Wrong! The pink ring he leaves in the tub creates is a very BIG pink problem when he transfers the stubborn stain from the bath onto Mother's white dress, Dad's shoes, the floors, the walls, and ultimately, over the entire yard full of snow! Will the kids EVER clean up the mess? You bet they will, with some help from the Cat and his helpers: 26 miniature cats (AKA Little Cats A-Z) who live inside the Cat's hat! This classic Dr. Seuss story is the perfect choice for beginning readers and read-alouds, especially on snow days!" – eussville.com
Published on September 12, 1958 by Random House Children's Books
72 pages ISBN 0394800028 Reading Age: 3 – 7
Bartholomew and the Oobleck by Dr. Seuss
"Join Bartholomew Cubbins in Dr. Seuss's Caldecott Honor–winning picture book about a king's magical mishap! Bored with rain, sunshine, fog, and snow, King Derwin of Didd summons his royal magicians to create something new and exciting to fall from the sky. What he gets is a storm of sticky green goo called Oobleck—which soon wreaks havock all over his kingdom! But with the assistance of the wise page boy Bartholomew, the king (along with young readers) learns that the simplest words can sometimes solve the stickiest problems." – eussville.com
Published October 12, 1949 by Random House Children's Books
56 pages ISBN 0394800753 Reading Age: 5 – 9
Did I Ever Tell You How Lucky You Are? by Dr. Seuss

"Dr. Seuss's irrepressible optimism is front and center in Did I Ever Tell You How Lucky You Are? The perfect send-off for grads getting ready to venture off into the world! 'When you think things are bad, when you feel sour and blue, when you start to get mad . . .you should do what I do!' So begins the terrific advice of the wise old man in the Desert of Drize. This classic book provides the perfect antidote for readers of all ages who are feeling a bit down in the dumps. Thanks to Dr. Seuss's trademark rhymes and signature illustrations, readers will, without a doubt, realize just how lucky they truly are." – eussville.com
Published September 12, 1973 by Random House Children's Books
64 pages ISBN 0394827198
Reading Age: 5 – 9
The Lorax by Dr. Seuss
"Celebrate Earth Day with Dr. Seuss and the Lorax in this classic picture book about sustainability and protecting the environment! Dr. Seuss's beloved story teaches kids to treat the planet with kindness and stand up and speak up for others. Experience the beauty of the Truffula Trees and the danger of taking our earth for granted in a story that is timely, playful, and hopeful. The book's final pages teach us that just one small seed, or one small child, can make a difference. Printed on recycled paper, this book is the perfect gift for Earth Day and for any child—or child at heart—who is interested in recycling, advocacy, and the environment, or just loves nature and playing outside." – eussville.com
Published on August 12, 1971 by Random House Children's Books
72 pages ISBN 0394823370 Reading Age: 5 – 9
---
As shown on goodreads.com these are 4 of 7 books of the Planet Protectors Series by Lisa Bullard
"Do your part to be a planet protector! Discover how to reduce, reuse, recycle, and more with Tyler and Trina in the Planet Protectors series, part of the Cloverleaf Books™ collection. These nonfiction picture books feature kid-friendly text and illustrations to make learning fun!" – goodreads.com
Each of these 4 books in the Planet Protector Series is:
24 pages Published August 1, 2011 by Millbrook Press
Reading Age: 5 – 8 years Grade Level: Preschool – 2
Choose to Reuse by Lisa Bullard
"We all throw away too much stuff! Watch Tyler find ways to reuse his old things. Can you think of new uses for items you would have tossed?" – goodreads.com
ISBN 0761361049
Look Out for Litter by Lisa Bullard
"Earth has a litter problem. How can you help? Join Trina to learn how little pieces of trash can become big problems. Find out safe ways to take care of litter." – goodreads.com
ISBN 0761361057
Earth Day Every Day by Lisa Bullard
"On Earth Day, we find ways to help the Earth. Trina plants trees with her class. She forms an Earth Day club with her friends. What can you do to make every day Earth Day?" – goodreads.com
ISBN 07613851
Watch Over Our Water by Lisa Bullard
"Earth has a water problem. People need water to live. But only a little of Earth's water is usable. How can you help? Join Trina to find out how to care for Earth's water." – goodreads.com
ISBN 0761385177
---
The Michael Recycle Series, as listed on PenguinRandomHouse.com, has 7 books, 3 of which are listed below.
"Fresh and funny, Michael Recycle will entertain young and old while gently imparting an important message about recycling and environmental awareness that will encourage all kids to become environmental superheroes!" Written by Ellie Bethel and published by IDW Publishing, the books are for readers ages 6 – 8 years.
Michael Recycle by Ellie Bethel
"Perfect for Earth Day on April 22, but important for teaching environmental lessons year around! Michael Recycle tells the adventures of a young superhero whose power allows him to teach people about recycling." – PenguinRandomHouse.com
Published March 25, 2008
28 Pages ISBN 1600102247
Michael Recycle Meets Litterbug Doug by Ellie Bethel
"Litterbug Doug is lazy. He is wasteful. He is messy. But worst of all, he hates recycling! The clean and green town where he lives is in danger from his lazy ways, not to mention suffering from the stench released by the mountains of garbage that Doug leaves wherever he goes! So strong is its stink that even the army of rats that follow Doug around are rethinking their friendship with him. It's up to Michael Recycle, planet Earth's green-caped crusader, to show dastardly Doug the error of his ways…before it's too late!" – PenguinRandomHouse.com
Published April 07, 2009
24 Pages ISBN 1600103928


Michael Recycle Saves Christmas by Ellie Bethel
"Santa is in trouble—the elves are running out of materials to make toys If something doesn't change fast there won't be any toys for kids this Christmas—each kid will only get one grey sock instead (there aren't enough socks for a pair even!). Cue Michael Recycle, our super green hero, who flies in with a message for Santa: Reuse and Recycle! Whilst Michael teaches the elves to make gifts out of everyday items (bouncing balls out of lots of elastic bands, Christmas decorations from tin cans, bracelets out of paperclips, etc), Solar Lola is busy providing enough light and electricity for the hive of activity that ensues!" – PenguinRandomHouse.com
Published November 16, 2010
32 Pages ISBN 1600108431


---
The Day the Trash Came Out to Play by David M. Beadle Out of Print
"A boy throws a candy wrapper on the street of his beautiful town, unintentionally setting off mischievous litter, which overruns the town." – goodreads.com
Published March 1, 2004 by Ezras Earth Pub
32 pages ISBN 0972785507
Reading Age: 6 – 8 years Grade Level: 1 – 2
---
Recycle Every Day! By Nancy Elizabeth Wallace
"Minna, a creative bunny, wants to win the Community Recycling Calendar Contest. She knows a lot about recycling but just can't come up with the perfect idea for her poster. Minna's family helps her find inspiration as they share their own recycling efforts. The book's bright, bold cut-paper illustrations are enhanced by Wallace's use of recycled materials such as bubble wrap, envelopes, and wallpaper. With games, activities, and recycling suggestions, this book is destined to be read again and again." – goodreads.com
Published 2006 by Two Lions (first published 2004)
41 pages ISBN 0761452907
Reading age: 6 – 8 Grade Level: 1 – 3

---
Trash & Recycling by Stephanie Turnbull Out of Print
"Have you ever wondered what happens to the things you throw away? In this book you can find out more about trash and follow its journey to be buried, burned, or recycled into something new." – goodreads.com
Published June 1, 2006 by Usborne Books
32 pages ISBN 0794514006
Reading Age: 6 – 8 Grade Level: 1 – 3
---
Not for me please!: I choose to act green by Maria Godsey
"Join Luke on his journey to protect what he loves with this engaging children's picture book about sustainability and acting green. After noticing the damage caused to the environment and animals due to trash and waste, Luke decides to take action. He believes he can have a big impact on the world around him and invites his readers to join him!
Using his phrase, 'Not for me, please!' Luke role models how children can harness their inner super-hero and help protect the environment. He introduces the concept of Recycle, Reduce, and Reuse through relatable examples children can understand. The rhyming story is catchy and the illustrations are captivating." – goodreads.com
Published April 16, 2018 by CreateSpace Independent Publishing Platform
---
The Paper Bag Prince by Colin Thompson
"A wise old man who visits the town dump every day moves into an abandoned train there and watches as nature gradually reclaims the polluted land." – goodreads.com
Published September 1997 by Dragonfly Books (first published 1992)
30 pages ISBN 0679885463
Reading age: 7 – 9 Grade Level: 2 – 3

---
Why Shouldn't I Drop Litter? by M.J. Knight
"Just how big is the garbage problem? Or the energy crisis? And how can one kid make a difference? One Small Step gives kids a reason to care and shows them how their actions have an impact on the greater world. Practical tips show how taking one small step today will have a great impact on the health of our planet in the future." – goodreads.com
Published August 1, 2008 by Smart Apple Media
32 pages ISBN 1599202654 Reading Age: 7 – 9 years Grade Level: 2 – 3







---
What we can do about Litter by Donna Bailey Out of Print
"Litter-paper, plastic and glass-could be one of the most easily solvable environmental problems. This book suggests ways the reader can help individually and by enlisting the aid of family, school, and community." – goodreads.com
Published June 1, 1991 by Franklin Watts
30 pages ISBN 0531110168 Age Range: 8 – 10 Grade Level: 3 – 4
---
Plastic AHOY! Investigating the Great Pacific Garbage Patch by Patricia Newman
"Plastic: it's used to make everything from drink bottles and bags to toys and toothbrushes. But what happens when it ends up where it doesn't belong—like in the Pacific Ocean? How does it affect ocean life? Is it dangerous? And exactly how much is out there? A team of researchers went on a scientific expedition to find out. They explored the Great Pacific Garbage Patch, where millions of pieces of plastic have collected. The plastic has drifted there from rivers, beaches, and ocean traffic all over the world. Most of it has broken down into tiny pieces the size of confetti. For nearly three weeks at sea, researchers gathered bits of plastic and ocean organisms. These samples helped them learn more about the effects of plastic in the ocean. Follow along on the expedition to find out how scientists studied the Garbage Patch—and what alarming discoveries they made." – lernerbooks.com
Published 2014 by Millbrook Press (Lerner Publishing Group) 48 pages ISBN 1467712833 Age Range: 8 – 12 Grade Range: 3 – 6


---
Sea Change by Joel Harper
"An enjoyable day at the beach turns into a passion for art and marine conservation. With a swell comes a wave and a Sea Change!" – goodreads.com
Published April 22, 2015 by Freedom Three Publishing
32 pages ISBN 0971425450
Reading Age: 8 – 12
---
Sarah Cynthia Sylvia Stout Would Not Take the Garbage Out (poem) by Shel Silverstein
Included in the book "Where the Sidewalk Ends" originally Published February 1974
Recited, sung and shouted by Shel Silverstein: (2:33 minutes, September 23, 2015)
---
True Story of Inky the Whale by the United States Coast Guard
"The story of Inky, a female pygmy sperm whale who was found stranded on a New Jersey coast beach on Thanksgiving Day 1993. She was rescued with the help of volunteers from ;the Marine Mammal Stranding Network and US Coast Guard Helicopter. Scientists at the National Aquarium in Baltimore discovered her stomach was full of plastic debris, which was keeping her from getting the nutrition she needed. The story of Inky is important because it shows how our trash impacts the environment, sometimes far away from where we might think. Although this story has a happy ending, many mammals, sea turtles, fish and birds die every year from eating or becoming entangled in marine debris. The purpose of this activity book is to teach children about the problem of trash and marine debris through the story of Inky." – goodread.com
Published January 1, 1993 by the United States Coast Guard 12 pages Age level unknown
---
For Older Kids and/or Adults
From Pristine to Earth by Ashley Ivanov
"From Pristine to Earth is an environmental fiction novel about an inquisitive boy named Marlo, who is from a unique and beautiful place called Pristine. Marlo is sent by his sixth-grade teacher on an assignment to observe the environment on Earth, where he discovers many startling things in the country of Urban. One of the startling events occurs at the Chemical and Plastic Plant, which appears like a gigantic plastic bottle. Join Marlo as he ventures away from his home to learn about a new environment." – goodreads.com
Published August 1st 2012 by Createspace
148 pages ISBN 1478121475 (cover with plastic bottle is the 2012 edition) (cover with the glass beaker is the 2014 edition
---
TrackingTrash, Flotsam, Jetsam & the Science of Ocean Motion by Loree Griffin Burns
Aided by an army of beachcombers, oceanographer Dr. Curtis Ebbesmeyer tracks trash in the name of science. From sneakers to hockey gloves, Curt monitors the watery fate of human-made cargo that has spilled into the ocean. The information he collects is much more than casual news; it is important scientific data. And with careful analysis, Curt, along with a community of scientists, friends, and beachcombers alike, is using his data to understand and protect our ocean. In engaging text and unforgettable images, readers meet the woman who started it all (Curt's mother!), the computer program that makes sense of his data (nicknamed OSCURS), and several scientists, both on land and on the sea, who are using Curt's discoveries to preserve delicate marine habitats and protect the creatures who live in them. A Boston Globe–Horn Book Award Honor Book for Nonfiction. Published March 26, 2007 by HMH Books for Young Readers 64 pages ISBN 0618581316 Ages: 10, 11, 12 Grades: 5 – 7


---
Gyre: The Plastic Ocean by Julie Decker
"A flip-flop discarded in Thailand finds its way to Hawaii, and a bottle cast off from Japan's tsunami is soon Alaska's beach litter. With stunning visual impact and an astonishing array of ocean trash, internationally recognized artists create works of art from debris collected from beaches around the world. Much of the oceans' trash is swirling in one of five gyres, which are large systems of rotating ocean cur­rents. Plastic packaging in a throwaway culture finds its way into our ocean biosphere and onto beaches, propelled by the gyres, and now, in this compelling book and related exhibition, into the hands of artists. This book, which explores the relationship between humans and the ocean in a contemporary culture of con­sumption, offers an international perspective on a pressing environmental problem." – goodreads.com
Published 2014 by Booth-Clibborn 211 pages ISBN 1861543557


---
Junk Raft: An Ocean Voyage and A Rising Tide of Activism to Fight Plastic Pollution by Marcus Eriksen
An exciting account of an activist scientist's unorthodox fight in the growing movement against plastic marine pollution and of his expedition across the Pacific on a home-made "junk raft"
Published July 4, 2017 by Beacon Press 216 pages ISBN 0807056405
---
Plastic Ocean by Captain Charles Moore with Cassandra Phillips
"How a Sea Captain's Chance Discovery Launched a Determined Quest to Save the Oceans
The researcher who discovered the Great Pacific Garbage Patch—and remains one of today's key advocates for plastic pollution awareness—inspires a fundamental rethinking of the modern Plastic Age. In 1997, environmentalist Charles Moore discovered the world's largest collection of floating trash—the Great Pacific Garbage Patch ("GPGP")—while sailing from Hawaii to California. Moore was shocked by the level of pollution that he saw. And in the last 20 years, it's only gotten worse—a 2018 study has found that the vast dump of plastic waste swirling in the Pacific Ocean is now bigger than France, Germany, and Spain combined—far larger than previously feared." – penguinrandomhouse.com
Published September 4, 2012 by Avery
400 pages ISBN 1583335013
This related video, The Great Garbage Patch, (7:23 minutes, September 24, 2014), a TED Talk given by the book's author, is also included in the Video and Movies section. Learn more at Algalita.org founded by Captain Moore.